ALPENTOURER inzamelactie voor de Balkan
Beste abonnees, fans en vrienden van ALPENTOURER,
Al jaren berichten we graag over toertochten door de Balkan, vooral door Kroatië en Bosnië & Herzegovina. We zijn er ook twee keer met een lezersreis naartoe geweest, waarbij jullie zelf hebben kunnen ervaren hoe mooi en gastvrij deze landen zijn.
De overstromingen die de Balkan afgelopen week hebben getroffen, raken ons dan ook diep. Vooral in Bosnië & Herzegovina, dat eindelijk een beetje was opgekrabbeld na de oorlog in de jaren negentig, zijn de gevolgen niet te overzien. De overstroming heeft tientallen levens gekost, maar dat niet alleen: wat is er gebeurd met de landmijnen die na de oorlog nog her en der in de grond zaten? Dat is een ramp-in-wording, bovenop de catastrofale overstromingen.
Omdat de Balkan ons zo na aan het hart ligt, hebben we besloten een eigen inzamelactie op touw te zetten: "ALPENTOURER helpt". Al het geld dat we de komende tijd ophalen, gaat linea recta naar slachtofferhulp en de wederopbouw van de infrastructuur. Je helpt acuut de bevolking van het getroffen gebied, en op iets langere termijn help je natuurlijk ook jezelf en medebikers. Want hoe eerder de Balkan zich herstelt, des te eerder kan je zelf weer genieten van bijvoorbeeld de beroemde brug in Mostar, op de foto.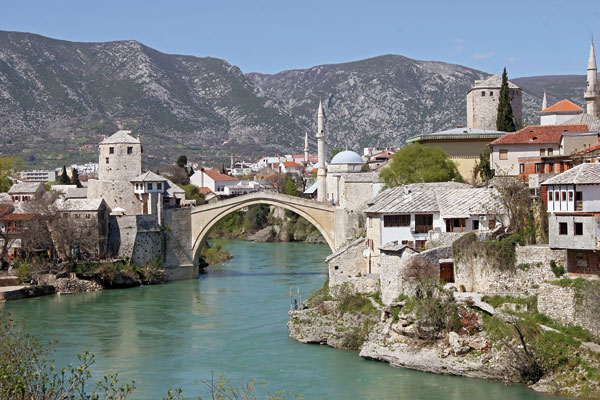 Omdat onze uitgeverij in Duitsland is gevestigd, werken we met de Duitse samenwerkende hulporganisaties. Vanuit Nederland of België kun je echter probleemloos via SEPA-overboeking of PayPal betalen. Je donatie gaat rechtstreeks naar de officiële samenwerkende hulporganisaties. Vele ALPENTOURER-lezers uit Luxemburg, Oostenrijk en Zwitserland zijn je al voorgegaan.
Laten we met z'n allen proberen in de komende maanden € 10.000 in te zamelen. We zijn het de Balkan moreel verplicht: vrienden door dik en dun, in voor- en tegenspoed. Volg de link, vertel het verder en doneer! Alle beetjes helpen.
Nu doneren!
Bijzonder veel dank voor je aandacht en bijdrage.
Beste bikergroeten,
Stephan Fennel & Snezana Simicic
Het ALPENTOURER-team