COOL-BUTLER – de koeltas voor motorrijders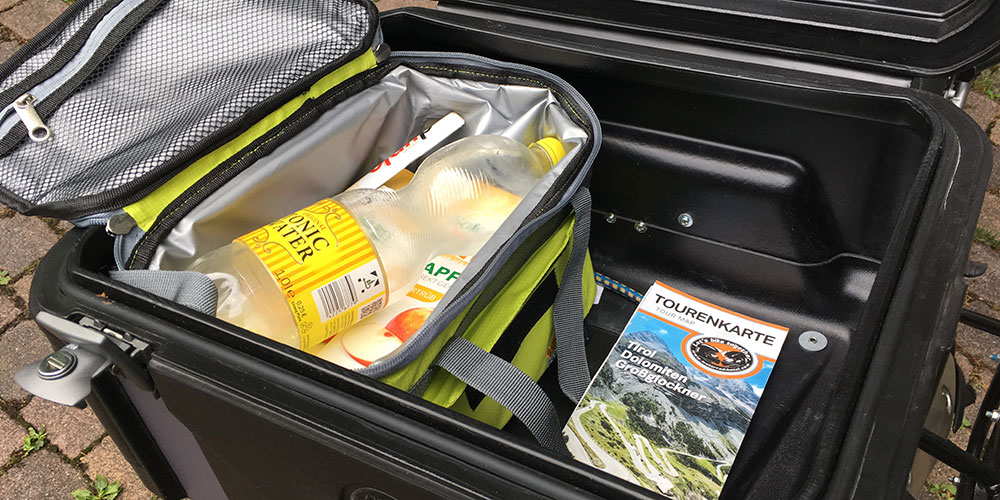 Telkens opnieuw maken we onze bikervrienden erop attent hoe belangrijk het is dat je onderweg regelmatig drinkt. Vooral als het warm is, daalt je concentratievermogen pijlsnel als het lichaam onvoldoende vloeistof en mineralen krijgt. Maar ook op een koelere of bewolkte dag zorgt de rijwind ervoor dat het lichaam sneller dan je denkt vocht verliest.
Een koeltas neem je op de motor niet zo gemakkelijk mee. De nieuwe COOL-BUTLER met 6 liter opbergruimte past echter niet alleen in elke topcase, maar ook zelfs in vele grotere tanktassen. Dat kunnen we als redactie na uitvoerige tests bevestigen. Dankzij zijn slimme formaat kan hij meerdere pet-flessen met 0,5 liter inhoud liggend meenemen. Uit onze tests blijkt ook dat drankjes die 's ochtends in de COOL-BUTLER worden geplaatst, de hele dag lekker koel blijven. Wie het zekere voor het onzekere wil nemen, legt ook nog een koelelement dat een nachtje in de diepvries heeft gelegen in de koeltas. Ook kleine snacks, zoals muesli- of chocoladerepen kunnen zo worden meegenomen zonder dat ze na een tijdje smelten.
De COOL-BUTLER is compact met zijn afmetingen van 26 x 19 x 17 cm en een volume van 6 liter. Het spreekt voor zichzelf dat hij uit hoogwaardige materialen is vervaardigd, want dat is een voorwaarde om in ons assortiment te worden opgenomen. De ritssluitingen zijn stabiel en zeer duurzaam. De buitenzijde van de zijkanten is versterkt om de stabiliteit te vergroten, en de draaggrepen zijn gepolsterd. Het is geen probleem om hem aan de hand mee te nemen, want hij is ook voorzien van een schouderriem. Op de voorzijde vind je een klein opbergvak, waarin je een flesopener of kleingeld kwijt kunt.
COOL-BUTLER – de perfecte koeltas voor je motortocht.
Afmetingen: 26 x 19 x 17 cm
Inhoud: 6 liter
Gepolsterde handgrepen
Stevige schouderriem
Versterkte zijkanten en hoogwaardige ritssluiting
Opbergvak aan de buitenzijde
Uitstekende isolatie
Uitgebreid getest door de ALPENTOURER redactie
De COOL-BUTLER is nieuw in de ALPENTOURER webshop verkrijgbaar en kost € 19,95 plus verzendkosten.