Dit is wat de tol in 2023 zal kosten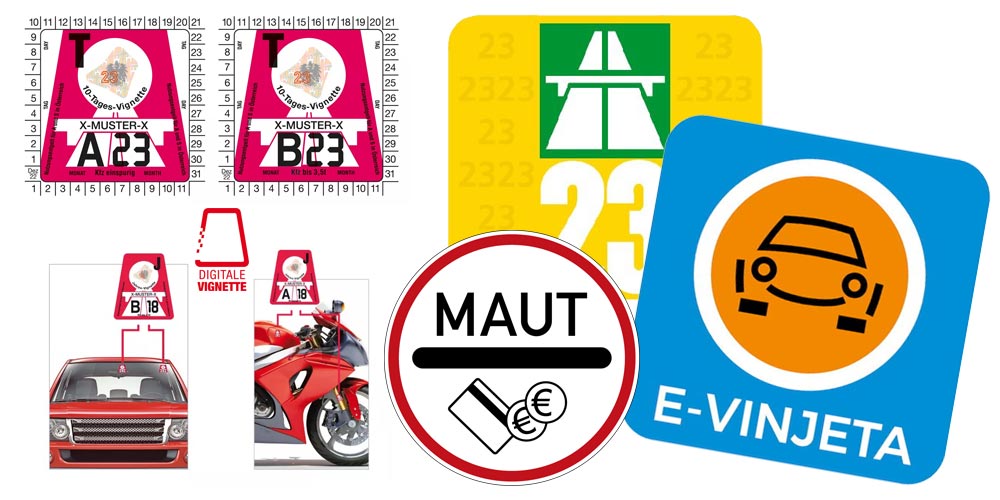 Het goede nieuws eerst: als je in 2023 naar Zwitserland of Slovenië reist, betaal je dezelfde tol in 2023 voor de vignetten als nu al het geval is. Voor Zwitserland kost een jaarvignet nog steeds 40 Zwitserse frank (in Nederland € 44,95 euro). Het vignet voor 2023 is geldig van 1 december 2022 tot en met 31 januari 2024. Momenteel is het alleen verkrijgbaar als plakvignet. De invoering van een e-vignet, zoals in de buurlanden, staat nog steeds op de agenda voor 2023.
In Slovenië kost het jaarvignet voor personenauto's 110 euro, het maandvignet 30 euro en het 7-daagse vignet 15 euro. Voor motoren is er een jaarvignet voor 55 euro, een seizoensvignet dat zes maanden geldig is voor 30 euro of het 7-daagse vignet voor 7,50 euro. Alle Sloveense vignetten kunnen volledig digitaal op internet worden gereserveerd en zijn gekoppeld aan een kenteken. Nieuw is dat het jaarvignet nu altijd precies een jaar geldig is vanaf de gewenste startdatum – ongeacht wanneer het is aangeschaft.
In Oostenrijk wordt het duurder
Nu het slechte nieuws: Het wordt inderdaad duurder in Oostenrijk – en veel duurder dan in voorgaande jaren. Voor 2023 kost de "Pickerl" 96,40 euro als autojaarvignet, 29 euro voor twee maanden en 9,90 euro voor 10 dagen. Motorrijders betalen 38,20 euro voor het jaarvignet, 14,50 euro voor twee maanden en 5,80 euro voor tien dagen.
Ook in Oostenrijk is het vignet digitaal beschikbaar en per kenteken op een voertuig bevestigd, maar nog steeds naast het klassieke plakvignet. Ook moet worden opgemerkt dat het e-vignet voor consumenten pas 18 dagen na aankoop geldig is, omdat hier het EU-brede herroepingsrecht geldt. Wie daarentegen als zakelijke klant zijn e-vignet aanschaft, kan meteen gaan rijden. Autoclubs bieden echter ook de aankoop van de digitale sticker in hun kantoren aan – en dan is hij meteen geldig vanwege het afzien van het herroepingsrecht.
In Oostenrijk moet ook worden opgemerkt dat er voor sommige trajecten van het autosnelwegennet extra tol wordt geheven. Dit kan ook digitaal verkregen worden. In plaats van vooraf te kiezen welke trajecten je zult gebruiken, kun je beter de digitale Flex route tol boeken. Je wordt pas in rekening gebracht als je een van de onderdelen hebt gebruikt. Zoals de naam al zegt, houdt dit je flexibel.
Onze tips
Koop trouwens alleen vignetten op de officiële websites in Oostenrijk en Slovenië of, zoals het vignet voor Zwitserland, bij clubs als ANWB en VAB want dubieuze aanbieders rekenen tot 100 procent extra.
Overigens: Informatie over de verschuldigde tol op sommige passen en bergwegen is beschikbaar op het PÄSSEPORTAL (duitstalig). De prijzen voor 2023 worden tijdens de jaarwisseling ingevoerd, als ze al beschikbaar zijn.