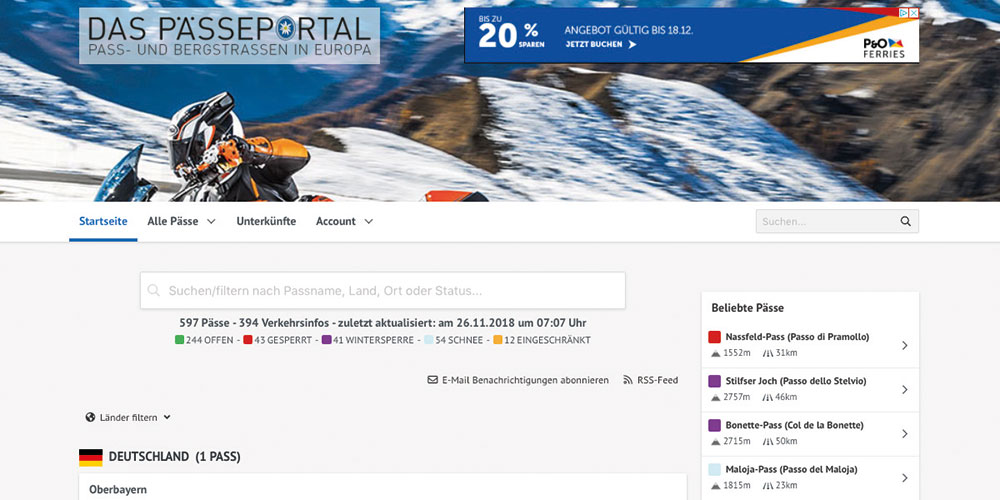 De Duitstalige website, die al de gegevens over de toestand van de pas- en bergwegen in ons portaal levert, heeft een nieuw thuis gevonden: het domein alpenpaesse.de. Maar het webadres is bij lange na niet het enige dat in het kader van de omvangrijke relaunch van de sinds meer dan 15 jaar actieve website is veranderd.
Actueel overzicht
Op de homepage van het passenportaal worden nu alleen nog de passen met een toegangsbeperking vermeld. Dat kunnen wegwerkzaamheden, tijdelijke of langdurige afsluitingen, weersbeperkingen of wintersluitingen zijn. Daarmee is het eerste overzicht duidelijk verbeterd omdat je niet meer door alle vermelde passen hoeft te scrollen om een overzicht van de actuele toestand te krijgen.
Voor een beter overzicht zorgt ook de live-zoekfunctie. De gezochte passen worden al weergegeven nadat de bezoeker enkele letters heeft ingevoerd. Bij het volledige passenoverzicht kun je naar keuze alle vermeldingen weergeven of de vermeldingen filteren op land.
Vermeldingen verdubbeld
Het totale aantal vermeldingen is nu met zo'n 700 verdubbeld. De komende maanden staan er nog honderden op de planning, en er zullen ook zeker nieuwe landen worden toegevoegd. Tot einde 2019 zullen meer dan 1 000 vermeldingen de reislust opwekken en informatie over de toegankelijkheid voor het verkeer bieden. Helaas is er niet voor alle passen en bergwegen officiële verkeersinformatie beschikbaar. Desondanks is het nieuwe passenportaal met meer dan 400 dagelijks geactualiseerde meldingen het met afstand grootste overzicht in zijn soort op internet.
Persoonlijke lijst van passen
Wie zich – vanzelfsprekend kosteloos – registreert, heeft nu al de mogelijkheid om een persoonlijke lijst van passen te maken en actuele informatie over de toestand van individuele passen per e-mail te ontvangen. Bovendien kunnen geregistreerde gebruikers commentaren achterlaten, hun eigen foto's bij een bepaalde vermelding uploaden, overnachtingsadressen rechtstreeks contacteren en nu ook een suggestie voor nieuwe geografische punten aan de redactie doen. De gebruikers worden hiermee van harte uitgenodigd om de website verder uit te breiden met passen en bergwegen die nog ontbreken.
De volledige tekst is te vinden in ALPENTOURER 3/2019.
ALPENPAESSE.DE