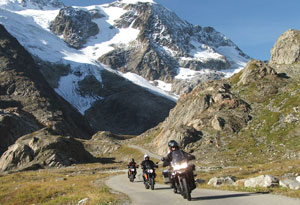 THAT Motortours viert feest: al 15 jaar stuurt Roger Thewissen zijn klanten op de motor door half Europa. Zijn aanbod is in al die jaren flink uitgebreid. Momenteel staat de teller op 40 bestemmingen. Een van de onderscheidende elementen uit het basisconcept is dat je het toeraanbod zowel als groep of als individuele deelnemer kunt boeken. Speciaal voor die tweede categorie heeft THAT nu iets nieuws ontwikkeld: TPT (THAT Motortours Personal Tourguide). Hierin zijn niet alleen de GPS-gegevens van de geboekte toer opgenomen, maar ook veel andere nuttige informatie – van toeristische hoogtepunten tot restauranttips tot tankstations langs de geplande route.
In het jubileumjaar 2013 organiseert THAT als vanouds de legendarische 'Alpenchallenge', waarmee het bedrijf zichzelf ooit op de kaart zette. Van 14 tot 23 juni voert de toertocht kriskras door alle zes Alpenlanden.
In juni staat er ook een uitgebreide toer door Kroatië en Bosnië-Herzegovina op het programma, inclusief de reis er naartoe met de autotrein. En natuurlijk ook het klassieke lange weekend in Duitsland, waar THAT is gevestigd: zo kun je in mei vier dagen toeren door de Eifel.
De rest van het uitgebreide aanbod aan spannende toeren voor groepen of individuele bikers staat uitvoerig beschreven op de nieuwe website www.thatmotorreizen.nl of www.thatmotorreizen.be. Vroegboekers krijgen fikse kortingen, tot wel 160 euro per persoon.
meer info