V-Strom 1050 gaat off-road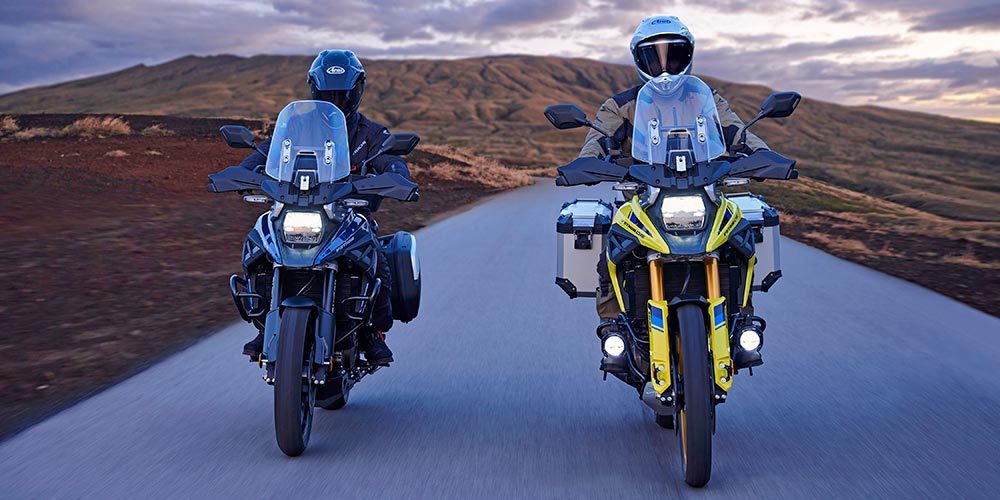 De vernieuwde Suzuki V-Strom 1050 en V-Strom 1050DE voldoen voortaan aan de behoeften van nog meer motorrijders die een stoere toermachine willen om overal mee naartoe te nemen. Of dat nu lange afstanden over asfalt zijn of kortere verkenningsritten over onverharde wegen.
Het nieuwe model biedt keuze uit een twee varianten en in totaal zeven kleurcombinaties, toegespitst op de voorkeuren van de rijder voor verschillende soorten van adventure-activiteiten. De Suzuki V-Strom 1050 is gericht op het bieden van maximaal comfort en rijplezier tijdens het afleggen van grote afstanden en sportieve ritten. De Suzuki V-Strom 1050DE is gericht op optimale prestaties en controle wanneer de ontdekkingsdrift verder gaat over gravelpaden en off-roadpaden.
V-Strom 1050DE: ideaal voor off-road gebruik
Voor de Suzuki V-Strom 1050DE hebben de ingenieurs van Suzuki zich intensief beziggehouden met het verbeteren van de prestaties op onverharde oppervlakten. Tot de vernieuwingen behoort onder meer een 21-inch voorwiel met een speciaal semi-blokpatroon. De langere aluminium achterbrug en wielbasis verbeteren het stuurgedrag wanneer bijvoorbeeld over gravel gereden wordt. De langere veerweg is hierbij nog beter in staat om hobbels en ruwe oppervlakten te absorberen.
Andere vernieuwingen zijn een breder stuur, bredere stalen voetsteunen, een aluminium motorbeschermer en een standaard accessoire-bar. De Suzuki V-Strom 1050DE introduceert verder een nieuwe Gravel modus (G-mode) als onderdeel van het Suzuki Traction Control System. Deze modus zorgt voor een beter weggedrag op onverharde wegen en maakt uitschakeling van het ABS-systeem op het achterwiel mogelijk voor betere prestaties op grind.
All-terrain banden
De V-Strom 1050DE is uitgerust met een 21-inch voorband (Dunlop Trailmax Mixtour in de maat 90/90R21) en een 17-inch achterband (150/70R17) met een speciaal semi-blokpatroon. Deze nieuwe avontuurbanden zijn ontworpen om solide prestaties op de weg te bieden, evenals een uitstekende grip. De banden garanderen extra 'handling' tijdens het verkennen van onverharde wegen en paden. De interne structuur van de banden is exclusief ontworpen voor de Suzuki V-Strom 1050DE.
De vernieuwde V-Strom 1050 en 1050DE beleven hun debuut tijdens de INTERMOT-motorbeurs in Keulen op 4 tot en met 9 oktober 2022. Consumentenprijzen worden op een later moment bekend gemaakt.