Voorwoord 2203 – op naar de Galliërs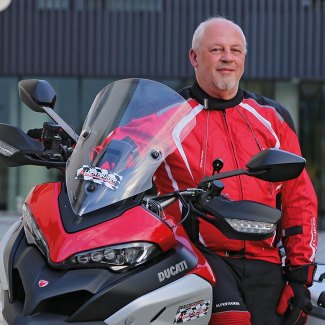 Deze editie van ALPENTOURER staat helemaal in het teken van Frankrijk. Het grootste land van de EU heeft zoveel interessante bestemmingen te bieden dat het ons altijd een genoegen is jou als lezer nieuwe suggesties voor boeiende reizen te geven.
Christoph Berg heeft bijvoorbeeld een aantal van zijn favoriete "lost places" bezocht op het eiland Corsica, dat bijzonder aantrekkelijk is voor motorrijders. Hij draagt ook bij aan deze uitgave van ALPENTOURER met een prachtige reportage uit het Juragebergte in het Frans-Zwitserse grensgebied, waarbij hij naast de landschappelijke hoogtepunten ook inzicht krijgt in de geschiedenis van absint – zonder al te diep in het glaasje te kijken…
Thomas Krämer daarentegen is op pad in Zuid-Frankrijk. Nee, niet in de Alpen of aan de Côte d'Azur, maar in de Gard. Deze relatief onbekende streek tussen het levendige Marseille en het bezadigde Montpellier voert je langs wegen die al door de Romeinen zijn aangelegd, naar historische dorpjes, indrukwekkende landschappen en uiteindelijk naar de heuveltoppen van de Cevennen.
Last but not least beschrijft Wolfgang Henne zijn ervaringen op de bergpassen in de Pyreneeën – zoals altijd is ook dit één groot bochtenfeest.
Deze keer komt onze top-10 ook uit het land der Galliërs. Royaal verspreid over de hele Franse kaart geven onze bestemmingstips een mooi beeld van de diversiteit van dit geweldige vakantieland.
Omdat de mooiste Franse streken een behoorlijk eind van Nederland en Vlaanderen liggen, moet je bij de keuze van een motor misschien rekening houden met lange afstandsritten? De BMW K-serie is altijd bij uitstek geschikt geweest voor het betere reiswerk. En na een fundamentele vernieuwing voor het seizoen 2022 is hij niet alleen weer bij de tijd wat technologie betreft, maar ook in sommige opzichten ook een pionier.
In deze editie zoeken we het hogerop met een compleet andere technologie en wijden we ons aan het actuele onderwerp van cameradrones. Steeds vaker nemen wij motorrijders zo'n klein, compact vliegmachientje mee op reis om onderweg fraaie video's of foto's te maken. Maar niet elke aspirant-piloot is op de hoogte van de wettelijke eisen voor het besturen van drones in Europa. Onze expert Alex Milz zet alle mogelijkheden en vereisten netjes voor je op 'n rijtje.
Wacht dus nog even met opstijgen!
---
ALPENTOURER abonneren? Dat kan hier wel!
---