Rij-indruk Indian Chieftain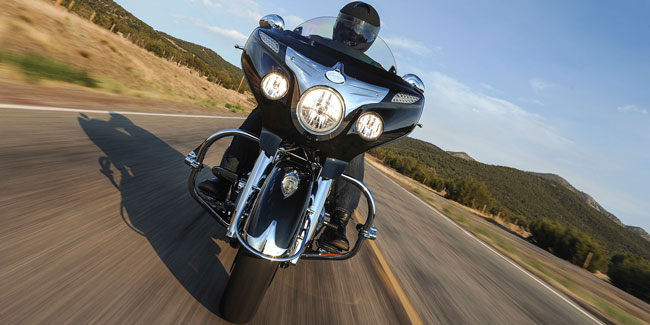 Bernd is een boom van een kerel. Zo eentje die je je op een dikke Harley-Davidson voorstelt. Of op een Honda Goldwing. Voor Bernd zijn drie dingen belangrijk aan een motor: hij mag niet te klein zijn, hij moet goed te besturen zijn en hij moet een flinke geluidsinstallatie aan boord hebben. Dan is hij dik tevreden. Bernd, mogen we je aan de Indian Chieftain voorstellen?
Tegen een testrit zegt Bernd nooit nee. Hij is onze man voor het zware werk. Reusachtige bikes die andere testers afschrikken ("Sorry, dan kan ik toevallig niet"). Maar Bernd, die met zijn baard wel iets wegheeft van een reusachtige houthakker, lust zulke motoren rauw.
PRINT UITGAVE KOPEN
DIGITAAL DOWNLOADEN
En Bernd, hoe was het om met dit grote opperhoofd op weg te zijn? Daar komen we meteen bij ons eerste dilemma aan: de koffers. Die zijn te klein, klaagt Bernd, die toch echt niet veel bepakking mee op reis neemt. Maar hij mist zijn topcase, waarin hij alles kwijt kan wat kleiner dan een koelkast is. Maar dat is eigenlijk een luxeprobleem, want de koffers van de Indian zijn gewoon prima. Ze worden samen met de motor centraal ver- en ontgrendeld en hun slanke vormgeving volgt de contouren van de achterzijde. Dat is niet retro, maar origineel.
Keyless ride, ready for take-off
Zeer van nu is de startprocedure. De sleutel kan in het motorjack blijven, want een transponder geeft toestemming om de Indian tot leven te wekken. Keyless ride, ready for take-off. De enorme V2 maakt zich niet druk: als je niet al te snel onderweg bent, in de stad bijvoorbeeld, pruttelt hij kalm en produceert daarbij nauwelijks 1000 toeren per minuut. Zodra je de laatste huizen achter je hebt gelaten en gas erop kan, laat de dikke Indiaan zijn spierballen rollen. Met een koppel van 139 Nm – in andere landen zelfs nog meer – produceert hij bijna genoeg stuwkracht om een goederentrein van z'n plek te krijgen.
De acceleratie en het rijgevoel ontlokken Bernd een dikke grijns onder zijn baard. De voorwaartse kracht van de twee cilinders weer af te remmen is echter een flink karwei. Daarvoor heb je een kerel nodig met handen als kolenschoppen. Zoals Bernd. De rem­installatie is voldoende gedimensioneerd en technisch up to date, maar de bediening vergt een geweldige spierkracht in de handen en daarom is de dosering nogal lastig.
Een paar duizend kilometer later volgt de conclusie van de niet bijster spraakzame Bernd: de motor bevalt hem zeer. De bekleding is prima, de koffers zijn nog altijd te klein. Ondanks zijn forse leeggewicht van 420 kilo laat de Chieftain zich vlotjes de bocht om dirigeren, zoals hij tijdens een paar sportieve etappes in de Franse Alpes Maritimes liet zien. Wat Bernd echt gelukkig maakt, is de 100 watt geluidsinstallatie. Hij was niet te zien, maar zeker te horen, en dat kan onderweg heel kalmerend zijn.