FolyMaps Touring Atlas – compact voor de tanktas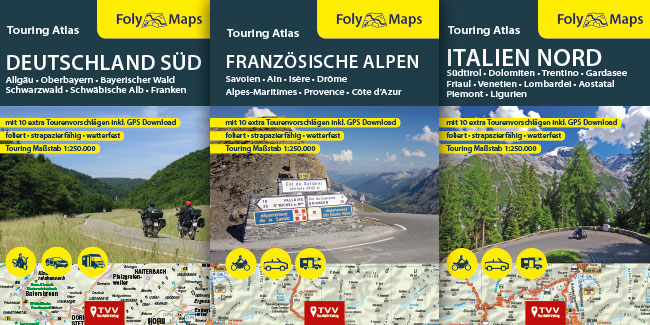 Zelfs in deze tijden van navigatie-apparaten en -apps zweren vele motorrijders bij goed kaartmateriaal. Dat komt thuis van pas bij het plannen, maar ook onderweg.  Het werken met allerlei losse kaarten is echter vaak een moeizaam klusje, dat hebben we zelf telkens weer kunnen vaststellen. Onze voorgestelde oplossing: een atlas in een formaat die in de tanktas past en weersbestendig is.
Met de FolyMaps Touring Atlas is er een nieuwe planningstool voor roadtrips beschikbaar – met de motor, de cabrio of de camper. En ook onderweg verlenen de atlassen met en schaal van 1:250.000 goede diensten. Ze zijn ontworpen als een nieuwe serie die regelmatig wordt uitgebreid. De aftrap wordt gemaakt met de regio's Franse Alpen, Italië-noord en Duitsland-zuid – die voor vele reizigers tot de meest geliefde reisdoelen in het Alpengebied behoren. De – Duitstalige – atlassen zijn verkrijgbaar voor een prijs van 19,95 euro per stuk (plus verzendkosten).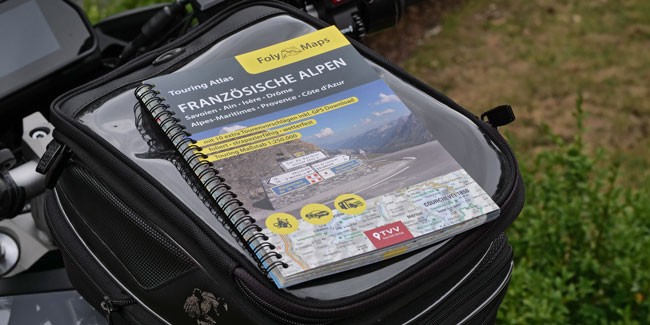 De atlassen zijn uitgevoerd in een compact A5-formaat en voorzien van een solide ringband. Ze passen perfect in de tanktas – of het handschoenenvakje van de auto. Dankzij de tweezijdige folielaag is het hele product met 104 pagina's weersbestendig, scheurvast en beschrijfbaar met een wateroplosbare stift. Daardoor kun je naar wens een route markeren of opmerkingen toevoegen, die zich later makkelijk laten verwijderen.
Je vind de nieuwe serie FolyMaps Touring Atlas hier.