Handig hulpje bij lekke banden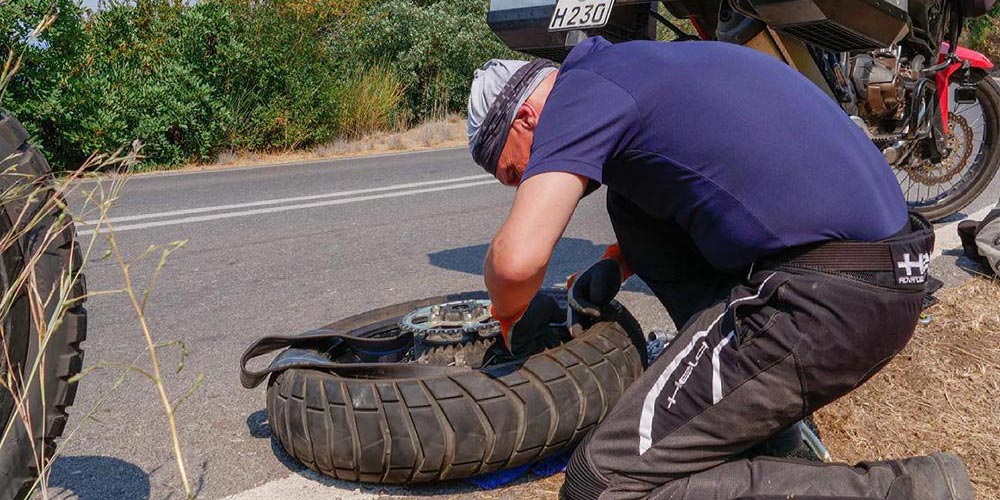 Velen zullen het scenario kennen: Je bent op weg in een mooie uithoek van de wereld als je een "pffft" hoort en je band lek gaat. Schroeven, spijkers of andere onderdelen die op de weg rondslingeren kunnen je hele dag verpesten. En omdat de dichtstbijzijnde werkplaats nogal ver weg kan zijn, behoren bandenreparatiesets tot de toeruitrusting van veel motorreizigers.
Helaas zijn de drukpatronen die in zulke sets zitten alleen geschikt voor een ritje naar het volgende benzinestation. Het is dus handig om een kleine compressor bij je te hebben. De ALP-250 van AGT is precies zo'n compressor. Met zijn compacte afmetingen van 154 x 62 x 41 millimeter en een gewicht van net geen 400 gram past hij in elke topkoffer. En wat doet zo'n klein hulpje?
Mini-compressor levert volledige lading lucht
Uitgerust met een 2.000 mAh batterij is het vermogen gemakkelijk genoeg om een motorfietsband van nul tot de nodige 2.9 bar op te pompen, d.w.z. voor volledige luchtdruk na een reparatie, bijvoorbeeld. Zonder bijladen zijn ook ongeveer vier tot vijf drukcorrecties mogelijk. Dit zal gewaardeerd worden door off-roaders die op ruw terrein graag leeg laten lopen en dan weer opblazen. Als je een powerbank in je bagage hebt, kun je de batterij van de mini-compressor snel opladen via een USB kabel.
Eenvoudige bediening
De ALP-250 heeft vijf modes waarvan je de functies afzonderlijk kunt instellen. Na het starten begint de compressor te werken. De maximale luchtstroom is 20 liter/minuut tot een maximale opblaasdruk van 8 bar. In de praktijk duurt een volledige vulling van een achterband echter tussen 12 en 15 minuten. Aanpassingen voor off-road gebruik gaan natuurlijk sneller. Als de streefwaarde bereikt is, schakelt de compressor automatisch uit. En een auto-off functie zet dan het hele toestel weer in diepe slaap. Dit spaart de batterij, want je kunt niet zomaar vergeten hem uit te zetten.
Behalve voor motorbanden is de mini-compressor ook geschikt voor autobanden. Er zijn ook adapters bij om bijvoorbeeld ballen of luchtmatrassen op te blazen. Dit nuttige accessoire is in onze webwinkel verkrijgbaar voor slechts 79,95 euro.