Nationaal Triumph evenement in Nederland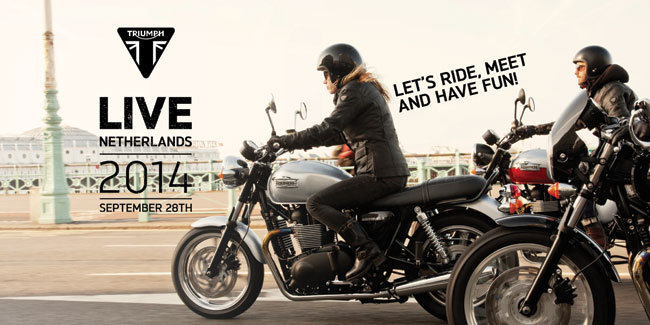 Met Triumph Live Netherlands op 28 september 2014 treedt Triumph Benelux in de voetsporen van succesvolle Triumph evenementen als de Tridays in Oostenrijk, de engelse editie van Triumph Live en de Belgian Triumph Meeting. Deze evenementen worden geroemd vanwege hun unieke Triumph sfeer en zijn al jaren een vast punt op de agenda voor vele nederlandse motorrijders. Veelvuldig is aan Triumph Benelux de vraag gesteld wanneer een dergelijk evenement nu eens in Nederland zal gaan plaatsvinden. Het antwoord daarop is dus 28 september!
Op het evenemententerrein van de Ijsbreker in Leusden (Adres: De Ijsbreker, Bavoortseweg 25, 3833 BM, Leusden) wordt op deze zondag tussen 12:00 en 18:00 een rijk gevuld programma aangeboden waarmee iedere motorrijder en vooral Triumph liefhebber zijn hart kan ophalen.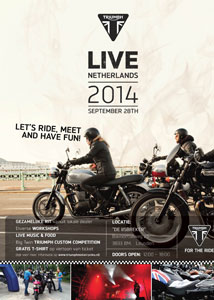 Officiele Triumph dealers inspireren bezoekers met diverse workshops zoals live customizen of het ombouwen naar een zijspan. Ook kan men deelnemen aan de Scrambler Gymkhana en genieten van een greep uit de Triumph geschiedenis met de Meridan Triumph tentoonstelling en meer. Zoals het hoort bij een goed motorfestival zijn er diverse live bands, mooie motoren en natuurlijk de gezelligheid onder gelijkgestemden.
28 september is ook de dag dat de stijlvol geklede heren van de Distinguished Gentleman's Ride hun ritten zullen rijden om aandacht te vragen voor prostaatkanker. Triumph ondersteund dit initiatief wereldwijd en zo ook zal er op Triumph Live Netherlands aandacht aan besteed worden.
Kaarten zijn vooraf aan het evenement gratis verkrijgbaar bij de participerende Triumph dealers. Bij het inleveren van het ticket ontvangt men ook nog eens het officiele Triumph Live T-shirt gratis mee naar huis. De participerende Triumph dealers zijn: Triumph Zaanstad  – Zaandam, Roké Motors – Mijdrecht, Triumph Motorcycles Groningen, Blom Motoren – Leusden, Triumph Bollenstreek – Hillegom, Motorcentrum Bruurs – Noord-Scharwoude en Moto Breda.
Het is natuurlijk het leukst om gezamelijk naar dit evenement te rijden op de motor. Daarom organiseren diverse Triumph dealers een toertocht richting Triumph Live, dus let's ride, meet & have fun!
Meer informatie