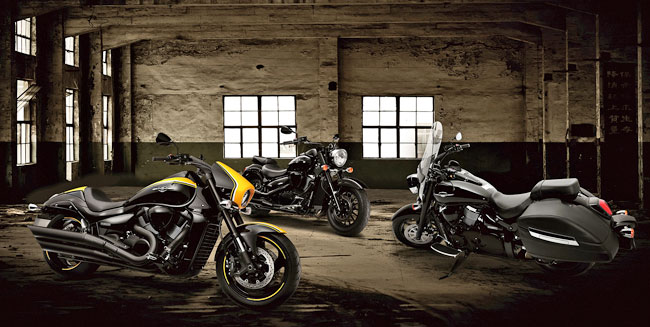 Zwart, zo zeggen ze, is altijd cool. En dat is precies de omschrijving die perfect past bij de drie 2014 Suzuki Intruder Black Editions. Diepglanzend zwart waar je ook kijkt. Met een enkel stijlvol mat of chromen detail dat het zwart nog meer onderstreept en krachtiger maakt.
Met zijn klassieke lijnen, een krachtig 805 cc V-twin blok en een zithoogte van slechts 70 centimeter biedt de klassieke C800B Black Edition alles om te genieten van het ware cruisen. Van remhendel tot achterlicht in indrukwekkend zwart uitgevoerd, waarbij de chromen koplamprand en knipperlichten het zwart nog zwarter doen lijken.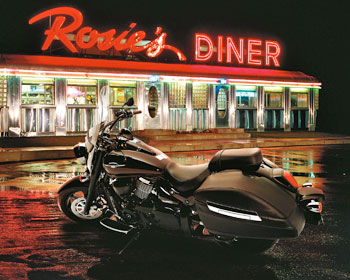 Back to Black is ook het thema bij de luxueus uitgevoerde Intruder C1500BT. Ook hier zwart voor zover het oog reikt. Maar het perfect gestileerde windscherm en de ruime, volkomen in het design geïntegreerde koffers, geven de C1500BT een extra dimensie. Meer comfort en ruimte voor toeren in stijl, terwijl het indrukwekkende 1462 cc V-twin blok voor moeiteloze prestaties zorgt. Zwarte velgen, zwarte voorvork en natuurlijk zwarte uitlaten, het bewijs dat overdaad prachtig kan zijn.
Voor wie dit alles nog niet genoeg is, levert de Intruder M1800RBZ, in alle opzichten de overtreffende trap in prestaties en specificaties. Met als basis het machtige, maar liefst 1.783 cc metende V-twin blok dat dankzij een ongekend hoog koppel nieuwe acceleratie maatstaven neerlegt. Uiteraard overheerst ook bij de M1800RBZ dominant zwart. Dat wordt echter opvallend sportief onderbroken door de "Marble Daytona Yellow" striping, die als een subtiele pinstripe prachtig in de velgranden terug te vinden is.
De Suzuki Intruder Black Editions zullen begin 2014 bij de Suzuki dealers te bewonderen zijn. De prijsstellingen worden later dit jaar bekend gemaakt.
Meer informatie