Voorwoord 2202 – de Alpen betoveren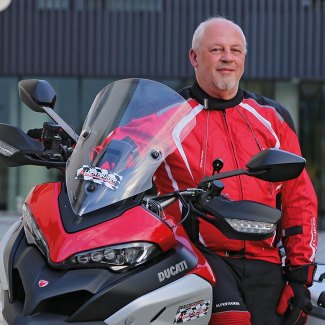 De Alpen zijn een eindeloze speeltuin voor motorrijders. Wij bezwijken steeds weer voor hun fascinatie. Vanuit dat verlangen is ALPENTOURER als tijdschrift ontstaan – inmiddels alweer 15 jaar geleden.
Inmiddels zijn we uitgegroeid tot een Europees motorreisblad met artikelen over – precies – Europa. Dat is iets wat we vaak moeten uitleggen aan nieuwe lezers, die de naam zien en zich gaandeweg over de inhoud verwonderen. Maar tegelijkertijd blijven we net als jij verlangen naar dit centrale gebergte in het hart van Europa. En we dat verlangen willen we graag voor jou (en onszelf) in vervulling laten gaan: met een uitgebreide special over de Alpen!
Toen we meer dan twee jaar geleden met de planning van dit nummer begonnen, konden we nauwelijks voorzien met welke uitdagingen we zouden worden geconfronteerd. De coronapandemie heeft het ons behoorlijk moeilijk gemaakt om te reizen en onderzoeken, te ontdekken en te ervaren. Natuurlijk hadden we ook in de archieven kunnen duiken en oude verhalen kunnen opwarmen als een "Best of Alps". Maar dat is eerlijk gezegd onze eer te na. We gaan liever de uitdaging aan en verleggen soms de grenzen voor jou, onze lezer.
Hoe zou je anders een vroege reis naar de Zwitserse bergen kunnen beschrijven? Met sneeuw zo ver het oog reikt, van de toppen tot de wegbermen. Maar er is één ding waar je bij de Zwitsers op kunt rekenen: als ze hun paswegen vrijgeven voor het verkeer, dan zijn ze dat ook, althans het asfalt. Het resultaat is een unieke rijervaring die je alleen in de Alpen kunt beleven.
Zelfs de Grossglockner Hochalpenstraße, die toch bij talloze motorrijders bekend is, laat zich telkens van een andere kant zien. Deze keer blijft de schitterende panoramaweg door het hooggebergte verborgen vanwege motregen en mist, wat een heel aparte sfeer tijdens het rijden oplevert. Weinigen zullen zich bezighouden met motorrijden in de sneeuw op de Oostenrijkse Postalm. Maar onverwacht kan je zoiets best overkomen, zelfs in de zomer. Je bent nu eenmaal in de bergen, die zijn altijd goed voor een verrassing. En daarmee voor een ervaring die je niet snel zult vergeten.
Voor de beklimming van een Alpenpas heb je niet per se een grote, sterke en dus zware motorfiets nodig. Met 24 of 48 pk haal je de pashoogte ook heus wel. Lekker onthaast, of zoals mijn favoriete Vulcan zou zeggen: "Fascinerend".
Daarom vind je in deze editie van ALPENTOURER een vijftal reisverslagen over de Alpen: van de hoogste passen in Frankrijk tot fijne stuurwegen en wijngaarden vlak voor de Karawanken. Voor ieder wat wils dus.
Ik verlang alweer naar bergen.
Beam me up, Scotty!
---
ALPENTOURER abonneren? Dat kan hier wel!
---