Warmende handschoenen voor warme handen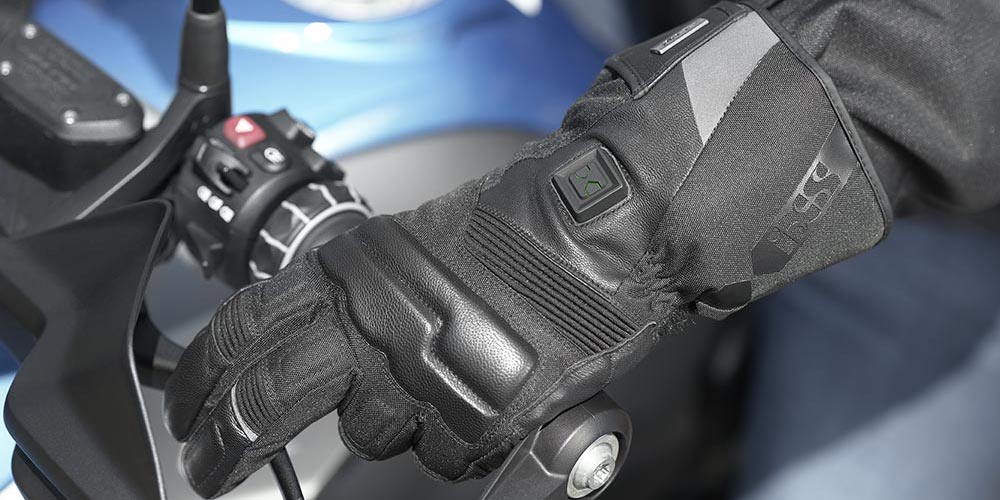 Motorrijders die het hele jaar door op pad zijn, zullen blij zijn: de Heat-ST toerhandschoen van iXS zorgt voor permanent warme handen. Op koude dagen biedt de handschoen, die gevoed wordt door oplaadbare accu's (inbegrepen), een uitstekend draagcomfort. Het verwarmingsvermogen is geoptimaliseerd om gelijkmatige verwarming te garanderen van de knokkels tot de achterkant van de vingers en rond de vingertoppen – zonder koudebruggen of warme plekken.
Verwarmingselementen van de fijnste metaalvezels worden aangedreven door lichtgewicht, oplaadbare lithium-ion accu's. De slanke accu wordt in de handschoen verborgen, de controller wordt direct aan de handschoen bevestigd. Het resultaat is een verwarmde handschoen van hoge kwaliteit met hoge bedrijfszekerheid.
Het warmteniveau van de handschoen kan op vier verschillende temperaturen ingesteld worden. De regeling gebeurt via een drukknop, die ook gemakkelijk via de handschoen te bedienen is. Het respectieve verwarmingsniveau kan afgelezen worden via een veelkleurige LED-display. Afhankelijk van het gekozen temperatuurbereik kan de warmte-afgifte worden opgeroepen over een periode van een goede twee tot acht uur. De extra Thinsulate isolatie zorgt voor extra warmte als de temperaturen verder zouden dalen. Het waterdichte en ademende solto-TEX membraan en een met geitenleer versterkte handpalm zorgen voor optimale grip, zelfs in de slechtste weersomstandigheden.
Een vizierwisser op de linker wijsvinger zorgt voor een veilige rijervaring, ook bij slecht weer. En dankzij touchscreen-compatibel materiaal op de top van de wijsvinger kun je je navigatiesysteem of smartphone bedienen zonder je handschoen uit te doen. De geheel zwarte Heat-ST handschoen is verkrijgbaar in de maten S tot 5XL voor 249,95 euro inclusief accu's en lader bij iXS en in de winkels.